When I moved in, the deck on the little egg house was already rickety. Boise is a four season climate and though it's pretty dry here in the high desert, it can be tough on a deck.
I'd thought I'd quickly replace the deck but things didn't roll out exactly as planned. This year, I noticed the deck was giving both a barefoot me and the dog splinters. I still didn't want to replace it. Time to ponder alternatives for extending its life.
Initially I was fine with the grayed out look of the deck. It looked like really old wood, much like my teak & eucalyptus furniture left to gray naturally. Plus I've painted the house exterior in shades of gray and the fence is similarly weathered. So at first I thought about just finding some kind of sealant. But I kind of wanted more of a hard coating that would smooth out the rough wood. And I wanted it easy.
That got me thinking about a painted look. Since stains and sealing requires refreshing every couple of years, it didn't seem more convenient than painting. Also, I love the look of painted wood floors.
First I stumbled onto Rustoleum's Restore Deck Coating and got kind of excited. It seemed like just the thing. However consultation with the home store's staff informed me that you did need the special roller painting kit to apply it, which would be awkward with the deck rail's many tricky angles. They suggested painting the deck floor and staining and sealing the rails, but I didn't want to mess with two-three different products. And, if I was going to do this, it meant going to an actual color and there was nothing perfect for my place in the color deck (though there were many, many choices). Finally, user reviews were pretty mixed.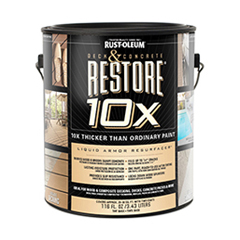 Next I found SharkSkin Deck and Siding Stain by Cloverdale at my nearby Rodda (Kelly-Moore store). The more I looked at it, the more SharkSkin really did seem perfect! Tintable to any color, it was designed just for my situation: a good, durable coating for a beat-up old deck. No need to seal over the paint job, just plan to do two coats. Designed specifically for Pacific Northwest conditions, it could handle Boise's four season climate if it could handle weather in the Sawtooths. Also, it could be used for siding so if I had leftovers, I could use them on my never-quite-finished exterior paint job project. Prep (scrubbing and bleach), seemed doable. Price was good, about $28 a gallon, making this a $60 project.
Once I decided on SharkSkin, I decided to go a little crazy on color. This might not be a forever deck so why not paint it blue, like the accent color in my exterior? This particular deck is an extension of the dining room /kitchen space. I like an indoors that flows to an outdoor room.
So blue it was. Only, it wasn't.  It was just . . . so much blue.
Time to ponder a little more. I've always liked black. I'd avoided black because I thought it would show dust on this project and be to hot. But what about black and and the light grey that is the main color of the house? This could give the deck a sort of fun holiday look without being too wild or too hot. And I wouldn't be wasting stain since I needed to do two+ coats anyway: blue was just the first coat.
The black and grey didn't work for me either. With the blue gone, the deck seemed to have no relationship to the garage. I liked the black rails but the grey just wasn't gelling. It looked like it wanted to be white but still wouldn't tie to the garage. Soooo . . . back to blue. With two dark colors, the deck might be hot but probably, by the time summer was upon us, not too bad since the tree that shades the deck was leafing in.
This is what we ended up with:
So, that's my sealed / color stained in deck.  A month or two in, the SharkSkin is holding up fine. Furniture dragged around doesn't seem to scratch it. It hoses down OK when the deck gets dusty with spring debris. The black does show dust but not in a way that bugs be too much. I've done a few touch ups but these are mostly due to someone's sloppy paint technique than a problem with the SharkSkin. The blue and the black do feel pretty warm on the feet when the sun is directly overhead but so far it's not bothering me or the Mints or keeping us off the deck. (Despite my rants on comfort as a priority, I guess I'm willing to sacrifice a little comfort/function for the right look!) On the cost front, this ended up a $90 project because of the gray. But that's OK because I plan to use it on the siding (I needed a little extra of that to finish the main house anyway).
What do you think? Too much or too little colorwise? Am I the only one a little charmed by the stripey deck?
Thanks for reading and sharing!