The Minnipin house had been a rental before it went up for sale. Only two probably-original door knobs were still here. One, a pretty glass one-way knob on the linen closet, the other a character-filled iron looking affair on the old, original door to the basement storage room. What was here was a range of brass, bronze and silver doorknobs, all keyed, probably for renter security.
The door knobs needed replacing, if not for aesthetics, for safety. Keys to all these doors hadn't come with the house. I dreaded the moment I'd lock myself out of a room, or when a young child might lock itself in. I needed privacy knobs, but keyless ones.
Pretty glass knobs with privacy features were out of budget. Poking around for something actually appealing, I stumbled across egg shaped knobs on several home store sites. The more I read about them, the cooler they seemed. Turns out that egg shape is easier to turn than the standard round knob. I liked their old European vibe and the look. Egg it was going to be.
I settled on Schlage's Siena Privacy Knobs in satin nickle (no fingerprints).
Install was easy, even for a first time door knob installer like me. The hardest part was working around all the dings and previous installs this almost 70 year-old house had endured. The second hardest part was patience. At around $24, I couldn't do all the doors at once. So the upgrade was a one-a-month sort of thing. Both Amazon and Lowes were my sources, depending on prices at the time I bought each one.
Two years later, I'm loving these knobs. The inevitable lock out has happened a couple of times, easily solved with the pin release that comes with the set. They're easy to use and keep clean. Part of me still wishes I had those pretty glass knobs from the fantasy upgrade. The eggs so clearly aren't original to the house. But they work. They feel clean. They add a little pleasant interest.
Also, they made it easy to decide on little egg knobs for the kitchen cabinets. These cabinets might be original to the house. They seem like they were made in a time when people got excited about machine finishes and what a router and a jigsaw could do. Solid, if not super space efficient, they're still going strong. Hole free, it was obvious that the cabinets had never had knobs or pulls.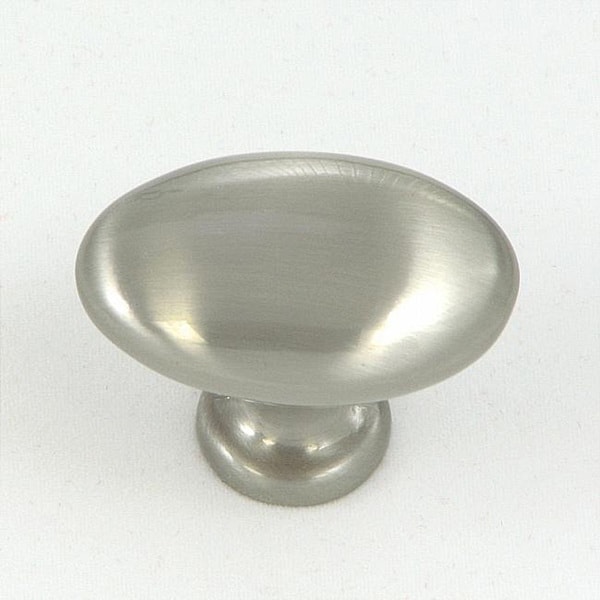 For the kitchen, I settled on York Satin Nickel Cabinet Knobs. This was also part of my Interim Kitchen project. I wasn't sure they were strictly necessary — the Minnipin house had been without all these years. Why now?
Hmm. Well, the first reason was function, ease of door opening. And a second was just that twitch to do something to make these cabinets a little fresher, since replacement wasn't an option.
So, so glad I did the project! The nickel adds a little gleam to the kitchen overall, somehow making it look more ordered. Those slow moving drawers are much easier to handle now. Cleaning is simpler too, partly because the cabinet edges stay cleaner and the knobs are freshened with a quick swipe.
These pulls have been great. So great I used the extras from the kitchen project to replace a couple folding closet door pulls, and even for the basement storage unit.
Yay! Overstock was my source for the pulls, which are sold in handy packs of 25. Average cost is $2.50 per.
No one has paid me to say any of this. I'm just loving my crazy little egg knobs.